My son, The Ruminator, has decided it would be cool for him and I to rebuild a classic '60s or '70s muscle car. He has gone full-salesman mode:  preparatory text messages about how my day was going, asking about garage progress, asking about the results of a recent work trip…  then BAM!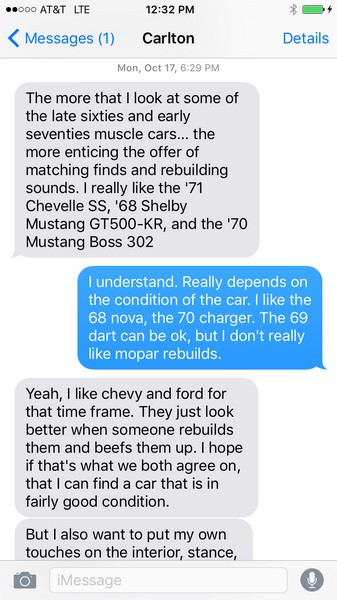 The desire is strong, but the understanding in lacking in my progeny.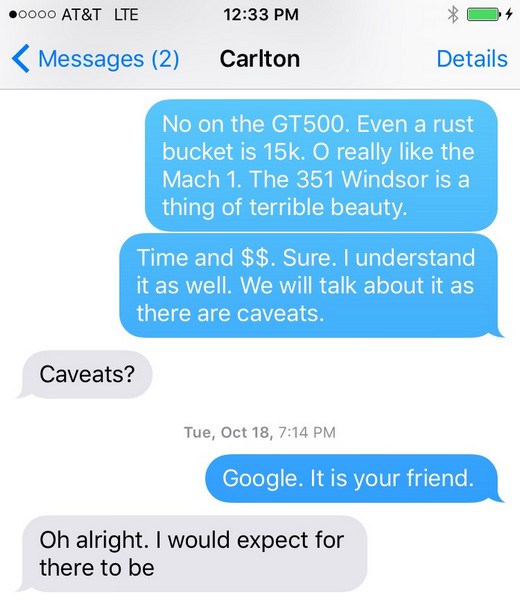 He has gone full salesman and used the "father/son/together/memories" angle.  Now we are going to pause here and discuss my deal with my children about cars…  I will not buy them a car.  The deal I had with my daughter, LOL, is that I would give her a down payment for a car when she started college or a trade school.  Not that I would finance or buy one for her.  That is the deal she got.  As I am all about fairness and egality, my son got the same offer.  Though, I did tell him that I would match funds – WHEN HE STARTED COLLEGE or trade school – if he managed to not spend every single cent that hit his pocket.  This was not over and above the offer to my daughter.  It was an attempt to get him to save some money and not blow it all.  I also mentioned that if he lived in Seattle for college, that I wouldn't mind rebuilding a car with him.  You need to understand that conversation revolved around a Monster-Miata build: shoe-horning a 351 crate engine into a hardtop Miata for me, as my garage queen, that he would get to drive "occasionally" when the weather was nice, in the summer… Now, that discussion has morphed into "We are going to buy and rebuild HIM a classic muscle car."  Huh?
I am not the kind of father that crushes my children's dreams with things like details and I can see that there is opportunity for me to enjoy this conversation, so I went forward when he continued his negotiation a couple of days later: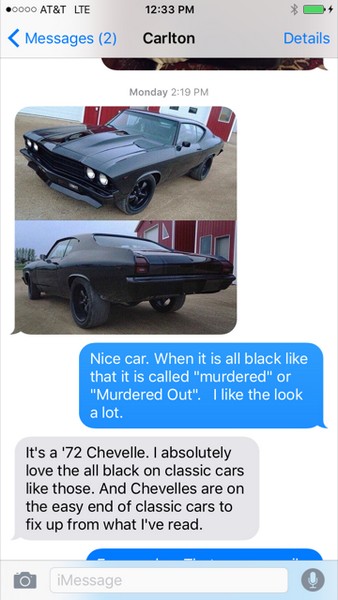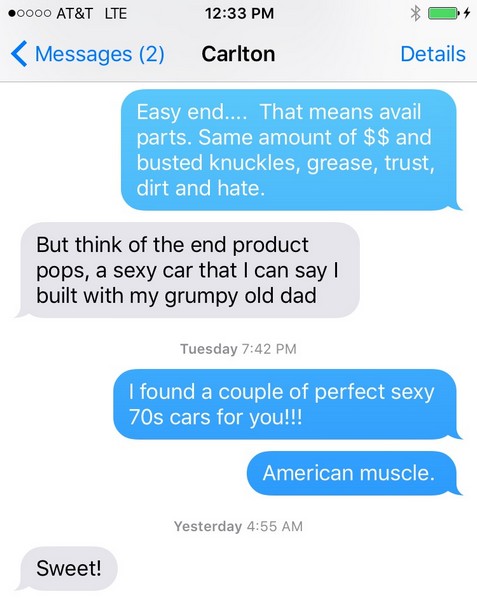 Man, he threw in the gruff, cantankerous old dad with a heart of gold one finds only in a SitCom angle…  He is either really good or getting help.  I countered with a baited hook of my own and then BAM!!
I offered up a Pinto, Pacer, or sweet Gremlin. Mwahahahahaha!!!  He stepped right into the trap – Bwahahahaha!!