The move is ON!  we have two weeks until the packers and movers get here and Stamps-With-Foot and I spent the morning and part of the afternoon going through stuff and listing stuff for sale  the largest of which is my lathe.  It hurts me a little to see it go, but I know that a huge old gap-bed lathe waits patiently for me in Seattle.
Below is the add that my wife is posting on the local English-speaking forums here in the Toulouse area:
FAR TOOL TBF 1000 Wood Lathe for sale in Cornebarrieu: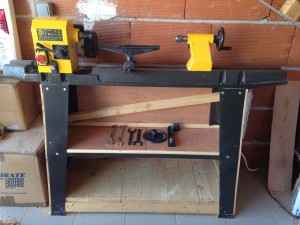 I bought this lathe brand new from a local shop 18 months ago.   Since it came unassembled, I reinforced the standard steel base with additional shelving, cross-braces to remove any possible flex.  I then sheathed three sides for extra rigidity and added a strong bottom platform for ballast.  I have turned everything from honey dippers, to bowls (large, small, & huge), stools from tree trunks, stair balusters, platters, furniture feet, tiny wooden and acrylic ornaments, lids, etc.  It has been a great lathe and has NO PROBLEMS or "small issues."  The bearing are true and tight and there is ZERO rust on the ways/bed.  This lathe is in perfect shape and the only reason I am parting with it is because we are moving back to the US and the power there will not work with the lathe's 240/50Hz motor. 
 Here are the details and specs as well as a couple of links to shops that sell it:
Cast iron variable speed lathe features a 360 degree swivel headstock.
Solid cast iron headstock and lathe bed construction.
Extra bed extension for outboard turning.
Speed is fully variable between 450 – 2100 rpm.
Weighs ~120 kilos
300mm width capacity over bed and 900mm between centers.
Have turned 600mm platters with headstock swiveled 90 degrees
550W enclosed fan-cooled motor
hollow self-ejecting tailstock with #2MT
Cast iron offset tool rest and extension arm
Head Stock has MT2 Taper and 25.4mm (1:8TPI threading – industry standard for lathes this size – easy to find chucks and accessories
Includes reinforced/enclosed steel base, added powerstrip for lights and hand sanders, a 4-prong drive centre, bowl/platter faceplate, live tail center, 4 wrenches, knockout-bar, shop-made stead rest.
It will be perfect for your garage or shop or for your partner's Christmas present since it is ready to work and you just have to plug it is.  I paid 520 Euros for this lathe 18 months ago and it currently lists for 550 – 745 Euro depending on the shop. I am asking 375 Euro.  Please give me a call if you have any questions and the lathe is available for demo if you would like.