So, you may or may not know this about me, but I have MAD Boat Lust.  I am a member of the Center for Wooden Boats, I get Wooden Boat Magazine & Small Craft Adviser Magazine every month, go to the Lake Union, Portland, and Port Townsend boat shows every year…  I follow three sets of Blue Water sailors on YouTube, am trying to con my wife into taking a sailing vacation (I am getting a hard NO! on that one currently), and almost bought a used 30′ sailboat last summer for "my son."   It is pretty bad.  To date, however, I have not come home to tell my with that "We" just purchased an Amel 55 blue water sailboat, a 47′ diesel powered Cabin Cruiser, a Chris-Craft in need of some "light repair", or a Hans Christian 33 kept in Bristol Fashion that "I" am planning to live on since said purchase would leave me homeless, devoid of my puppies, and divorced.
If my son, The Ruminator, lived in Seattle I wouldn't mind a swing keel Columbia 22 or a Catalina 22 to gunk hole around the Sound in with him.  A Catalina 270 LE would make my heart go pitter-patter as well, but I am a realist (-ish) and very aware of my current budget and available storage space.   A sailboat that I would only use a few times a year and have to pay moorage of, would make me very unpopular at home.  But, if someone has a 19′ potter taking up space in their life that needs a new home, I would be game…
What I need is a small outboard that that sits on a trailer in or beside the garage, that I can pop over to Blake or Vashion Island on, run up the Duwamish River a little piece, do a little salmon fishing on with my son or friends, haul a crab pot or three in season, find a secluded weekend beach for summer camping, etc…   It needs to have a little cabin to get out of the shifty weather here in Puget Sound, some storage space to keep gear dry, needs to be light enough to be pulled behind the jeep when fully loaded, and fast enough to handle the tidal flow in the PNW.
Buying a finished boat, even used, like a Ranger 21, a C-Dory 19, or a Boston Whaler 21′ Cuddy are WAY out of my price range, I have been perusing Craigslist for a 16′ -21′ hardtops, but the ones I have found are either gold plated & upholstered in unicorn fur or need to be sunk.  So, in due course, I have resolved to build the boat I want.  I know, I know… I have a shit ton of projects already with the shop and house, but I won't start the boat until Stamps-With-Foot agrees that the house is good and all the little projects at home are squared away.  Happy wife, happy life.
To digress a bit, my current boat lust dream is a Devlin Boats Dunlin 22 Cruiser with all the bells and whistles, but that too would be spendy, require me to quit my J-O-B to obsess over the details properly, I would have to rent out boat house space for the duration of the build, have the time to build it, and would probably cause my sweet bride to up my life insurance just before "accidentally" pushing me into a wood chipper.
Back in reality, I am looking hard at building a Devlin Noddy 16.  It is something realistic to build over the fall and winter, in the space I have available in the F-Bomb garage, and within my current budget.  Powered by a 4 stroke 50HP Honda or Yamaha, a sardine wood stove in the cabin, a crab pot winch arm on the stern, and lots of LED lights.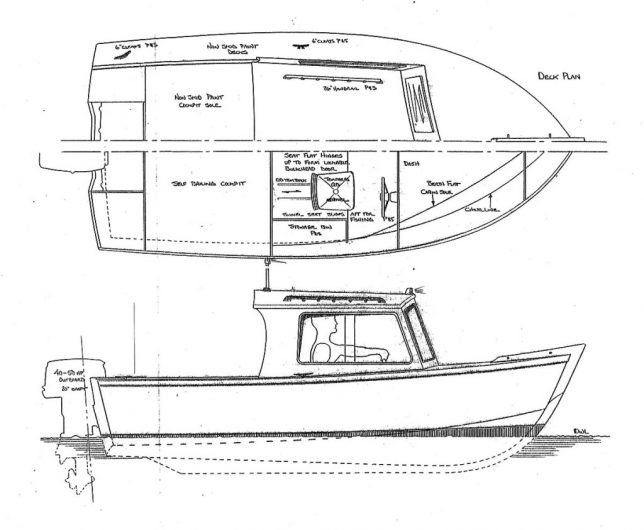 Devlin Boat Works in just south of us in Olympia and in addition to being a design house, that are a proper boat works and build all manner of craft there at any given time.  I have asked to go down this summer if they have a Noddy or similar hull under construction.  We will see if it can be arranged.
I will just lust a little while longer to satiate my boat lust…